Dr. Willey's Better Than Steroids DVD is loaded with underground exercises used by the best in the business to get big and strong. You will learn eight stunning rules to apply to any workout routine. With example exercises for each of the eight rules, your muscles will never have hurt so bad following their use. Best of all, they will never have grown so much either! It also has a short video demonstration on measuring body composition using a three site skin fold technique.
To find out more information, listen to Dr. Willey's video introduction on his BTS DVD.
Purchase the DVD today!
$15.00
Better Than Steroids Book
The Secrets to an excellent physique!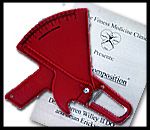 Body Fat Measurement Calipers
These calipers are highly accurate and will help you chart your progress along your journey.
Customized Meal Plans
Meal plans customized to your specific body type, goals, fitness plan and needs.
Coming Soon!